Bitcoin Whales Not Interested
A look at bitcoin whale transactions over the month of December shows that whale interest in the digital asset has been on the decline. This coincides with the low price ranges of BTC during this time, and with such little movement, it becomes harder to flip a profit.
These whale transactions carrying $1 million and above have seen a decline in recent times. This shows a lack of interest in both buying and selling from these large investors. As a result, the price of bitcoin has continued to stagnate between $16,600 and $16,800. In essence, this lack of activity from the large BTC whales is neither bullish nor bearish. The next trend, however, will be decided from what these large holders decide to do from here.
As this Santiment chart shows, a decline in whale interest has usually coincided with periods of low prices. However, if there were to be some significant accumulation from these large holders, then the price of bitcoin will begin another bull rally.
Since whale transactions carrying at least $1 million are sitting at a 2-year low, it makes for a prime setup for at least a short-term rally. If the whales increase their BTC holdings during this time, the impact on the price of BTC will become apparent right away.
Santiment notes that an accumulation trend from these large whales would trigger a historically bullish signal for the digital asset. This means that such events have always led to an upward rally in the past. When this happened in August 2021, it triggered the rally that saw bitcoin hit its all-time high price of $69,000.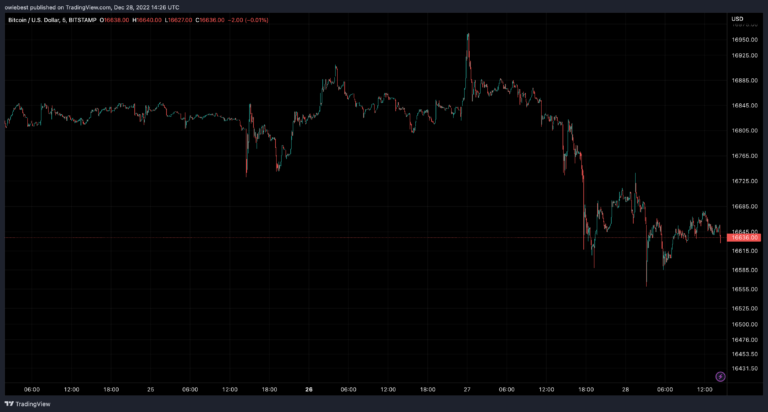 This time around, with the BTC price sitting so low, such a trend would lead to at least a 10% increase in the price of the digital asset. From here, a 10% increase would mean that bitcoin would surpass the $20,000 level once more, although a lot of resistance from the bears would be expected at such levels.
However, on the flip side, a continued decline will increase selling pressure on BTC from here. That would mean a reversal toward the $15,000 level once more. Now, it becomes a waiting game to see what happens first.
BTC's price was sitting at $16,684 at the time of this writing.
need to sell or buy tether (USDT) ?
feel free and ask us how 🙂